Same-Day Crowns in Farmington, NM
We all know just how important it is to keep our teeth and gums healthy; however, sometimes our oral routine falls flat. We might forget to brush our teeth before bed, or we may crunch on ice to cool down. Unfortunately, these habits can lead to toothaches, decay and broken teeth. When this happens, Dr. Travis Watson and the dental team here at Pinon Hills Dental can restore your tooth with a dental crown. Not just any dental crown, though; a same-day or CEREC crown.
What are same-day crowns?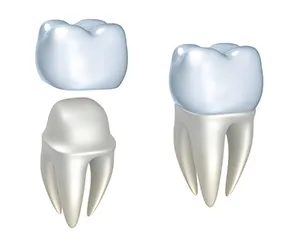 Thanks to advancements in dental technology, our Pinon Hills Dental team can now offer a way to create beautiful, long-lasting ceramic dental restorations including crowns and veneers in-house with the help of computer-assisted technology and equipment. Instead of turning to an outside dental lab to craft your custom restoration, which can take weeks, our dental team can do all this right here in our Farmington, NM office.
How are same-day crowns crafted?
Since dental crowns are now being designed and made by our dental team, you may have questions about the process. In order to create a CEREC crown, we will first need to take digital images of your teeth. This will provide us with the measurements we need to design a custom-fitted crown.
These digital dental impressions are then turned into 3D images. Our computer-assisted technology will help us design a crown using these images. From there, this data is then sent to our milling station, where we will choose the appropriate shade of ceramic among other options that will give you the custom crown you need for your smile.
What are the benefits of a same-day crown?
One of the major benefits is that getting a dental crown is no longer an extensive process. Instead of coming into our office two or three times just to get a crown, we can now provide you with high-quality ceramic crowns and other restorations in just one visit.
Since your permanent crown is designed and placed in one visit this negates the need for a temporary crown. You'll walk into our office and walk right back out with your new crown. The process only takes about 1.5-2 hours.
Same-day crowns are also made from medical-grade, durable ceramic, which means that with the proper care your crown could last up to a decade or more before needing to be replaced.



If you are interested in getting Same-Day Crowns in Farmington, NM, Pinon Hills Dental can determine whether you're a good candidate for treatment.
Call us today at (505) 325-2859 to schedule a consultation!